Update for 2019:
After hearing reviews from enough people after making this post I now only recommend using AMZrefund instead of Refunds Manager. It's the same service (or better) and only charges 8% of all recovered funds vs the 25% charged by Refunds Manager. AMZ Refund is also a cloud-based app instead of a PC software that has to be downloaded (which is weird). No brainer really
Hey Everyone,
A couple of months ago AMZ Tracker had a vender booth at the SCOE conference in Philadelphia (an Amazon sellers conference). Our neighbor in "VenderLand" was this nice guy named Justin who is the founder of
Refunds Manager
.
I thought that Refunds Manager looked like a pretty cool product, so I wanted to share it with you here.
Note* I'm not getting any kind of kick-back for sharing this, just thought it might help some of you.
Here is a quick video review I made: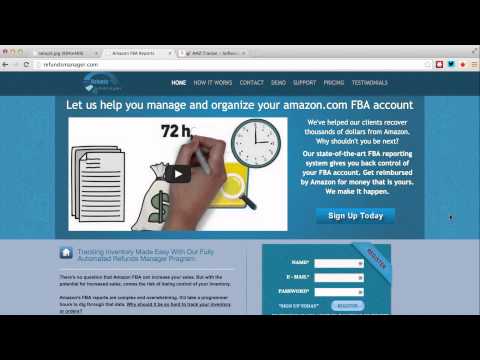 Overview:
When selling with Amazon FBA there are lots of things going on with your accounts daily besides simply selling. Refunds, stocking, lost products, returns, damages etc. Most everyone (myself included) just kind of assume that those refunds and credits that happen to your account all go through like they are supposed to, but supposedly this isn't the case. Things get missed.
This is where Refunds Manager comes in.
1) You download their software, and plug in your account details.
2) Then the software will audit all of the things in your account that should result in refunds, account discrepancies and compensated fees.
3) They then manually give it a look over
4) Support tickets requesting a return of the fees (or refunds) start being dripped into Amazon seller support.
5) When it's all said and done, Refunds Manager takes 25% of the money
they get back for you
. If they don't get any money back, they don't get paid. Kind of a no brainer as it's like finding free money.
I had never heard of these guys when I first showed up at the conference, but apparently Refunds Manager has been around for a while now, and has been vouched for by a lot of the big Amazon sellers in the industry. Because of them Amazon actually supposedly had to open an extra department for merchant refunds. So many support requests came pouring in that the existing support became completely overwhelmed.
Amazon actually frowned upon this a bit and got irritated, so the Refunds Manager crew shut down their service for a bit and re-programmed it to play nice with Amazon. Now all of the refund requests are dripped out and handled manually to avoid making Amazon mad. Smart thing to do.
I have not actually been able to use this service yet, as it's unfortunately only available for PC users (come to the dark side already Justin!). But, if you're interested in trying them out give it a whirl.
Cheers!